01 Nov

Episode #5: Rachel J. Mitchell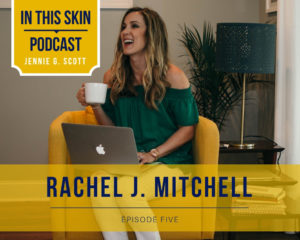 My guest for Episode #5 is Rachel J. Mitchell, an incredible woman I met through Instagram. She is a health and fitness coach who shares her faith openly. I love following her because she is authentic. She shares the struggles she has with body image, fitness, and food, and she never pretends she has it all figured out!
Rachel used to teach full time at the college level, and she recently cut back to pursue coaching full time. As a mom to two boys, she is always busy, but she really does make time to cultivate relationships with the people she's coaching and encouraging.
You're going to love hearing her story! You can click the Soundcloud link above, or you can click here to listen!
Connect with Rachel:
Sponsors:
BeautyCounter – Angie Eubanks