25 Oct

In This Skin Episode #4: Adriel Booker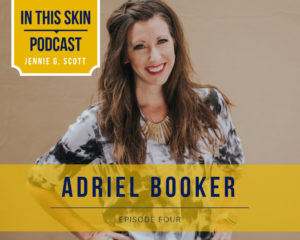 My guest for Episode #4 is Adriel Booker. Because October is Pregnancy and Infant Loss Awareness Month, I wanted to make sure you heard this interview with Adriel. She writes openly about her own miscarriages and struggles with infertility, and her heartbreak has become her ministry.
Her book, Grace Like Scarlett, is truly one of the best books on grief I have read. Even if you have never struggled with infertility, her book is one that can minister to you. It speaks to the universal experience of pain. I also recommend checking out her website, adrielbooker.com, where she has lots of resources for women who face infertility.
Connect with Adriel:
Instagram (Our Scarlett Stories)
Sponsors:
BeautyCounter – Angie Eubanks