11 Oct

In This Skin Episode #2: Abby Banks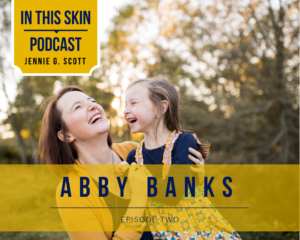 Abby Banks is a wife, mom, author, and advocate. Her youngest son, Wyatt, became paralyzed at 7 months old, and Abby's world turned upside down. In the years since Wyatt's diagnosis, she and her family have lived by the words "love him anyway," which is also the title of her book about their journey.
We talk about the journey she and her family took into a new normal, living with a child whose special needs impact daily life. Abby shares about her personal struggles and victories, learning to become comfortable with who she is in the life she leads.
You'll want to grab a copy of her book Love Him Anyway: Finding Hope in the Hardest Places.
Connect with Abby:
Sponsors:
BeautyCounter – Angie Eubanks