30 May

What to Tell Yourself When It's Time to Wear a Bathing Suit

OK, ladies. Take a deep breath.

It's time for bathing suits.

It doesn't matter if we weigh 100 pounds or if we're 100 pounds overweight – bathing suit season gives us all anxiety, doesn't it? All year long we look forward to the fun, lazy days of summer, and every year we try on tiny pieces of spandex in brightly lit dressing rooms and swear we'll just wear mumus instead. Bathing suits were clearly invented by the devil.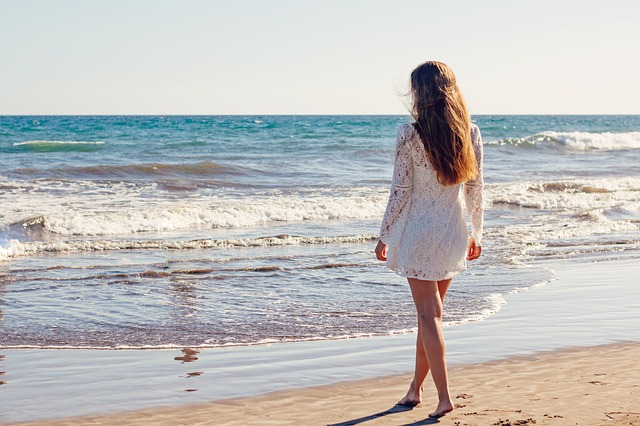 Isn't it insane how these get-ups can bring out our greatest insecurities? Isn't it amazing that fabric can reduce the strongest among us to tears?
Every year when the weather gets warm, my sisters and I inevitably have a text message thread saying things like, "I'm trying on bathing suits. Kill me now," or "Do you think it's socially acceptable to wear a parka on the beach?" There's a great camaraderie among women in bathing suits. It's known as collective angst.
Here's the deal: very few women feel completely comfortable in bathing suits, and very few women can walk around in a suit without sucking in their guts or hoping their thighs don't jiggle. Very few women can show off legs that lack cellulite, and very few women have perfect hourglass figures that modern suits are made to highlight. Very few women have perfect definition in their abs, and very few women look forward to putting on a bathing suit.
Very few women have the perfect bathing suit body.
And that's ok. The purpose of our lives isn't to look amazing in two pieces of spandex.
I put on a bathing suit this morning, and as I did, these are the words I told myself. I thought you might need some of them, too:
My body does not exist to look good in a bathing suit. It exists to house the Holy Spirit and to carry the gospel to a hurting world.
My body is strong. It has carried and birthed children, and it has carried me through some really hard times.
Yes, my body is imperfect according to the world's standards. But I don't live to meet the world's standards. I live to meet God's.
I sometimes wish I were smaller, stronger, more toned, and more defined. But I will not let those wishes prevent me from appreciating my health, my family, and my opportunities for fun this summer.
I will not let myself feel badly about my appearance. I exercise, eat right, and make deliberate choices every day to preserve my health. I honor my body with those choices, and I will honor my body by appreciating what it can do instead of resenting how it looks.
My husband thinks I'm beautiful.
My daughter is watching how I treat my body and listening to what I say about it. I will not succumb to shame and leave her with a legacy of self-loathing. I will not. I will not. I will not.
My worth is not in my weight. My value is not in my bathing suit size. My contribution to the world is not how I look on the beach. My calling is not to turn heads.
Ladies, I don't know how you feel about your body today. I don't know if you've been caring for it or neglecting it. I don't know if you've defined yourself by it or have made peace with it. I don't know if you cry in dressing rooms or feel triumph when you've mastered a workout. I don't know where you are today with the shell for your soul. But can I encourage you with this?
You are not the sum of your parts. You are not the size of your pants. You are worth far more than your weight, and your body is not a burden to bear.
Do what you can to take care of your body, and then choose to make peace with how it looks. And when you put on that bathing suit for all the world to see, quietly remind yourself, "The purpose of my life isn't to look great in spandex."
Interested in email updates and freebies? Sign up here and I'll send a free gift to your inbox!