24 May

Why I Know Satan Is Real

When you decide to write words for the internet to read, you have to develop a thick skin. People are at their bravest behind the anonymity of their keyboards, and they write words that can sting.

I wrote a guest post once where I mentioned Satan deceiving us, and the comments were swift and sharp. I was made fun of for believing there's an enemy, and I was mocked for blaming my problems on an unseen devil. And I guess I get it. If you're not a Christian and don't believe in the God of the Bible, it's hard to believe in the devil of it, too.

But I do. 100%.

I believe in him because I've encountered him, and I know he's real because I've been at the mercy of his attacks.

Including yesterday.

The story actually begins a few days ago, at church of all places. As I was serving in an area that needed extra help, I heard a whisper in my spirit – "You're profoundly different." Those words echoed in the silence of my mind. The words were not uplifting or positive, encouraging me to stand out in a crowd. They weren't praising me for my individuality. No, they were condemning and cold, pointing out why my life is not (and never will be) like everyone else's.

The funny thing about how Satan works is that he often takes an element of truth and twists it to serve his own purposes. He is the father of lies, so he always injects a lie into a truth. Yes, my life is very different from other people's. My family is different, and my mothering can't be the same. I know this, and it's been a struggle for me to accept. And Satan knows that. So he used it.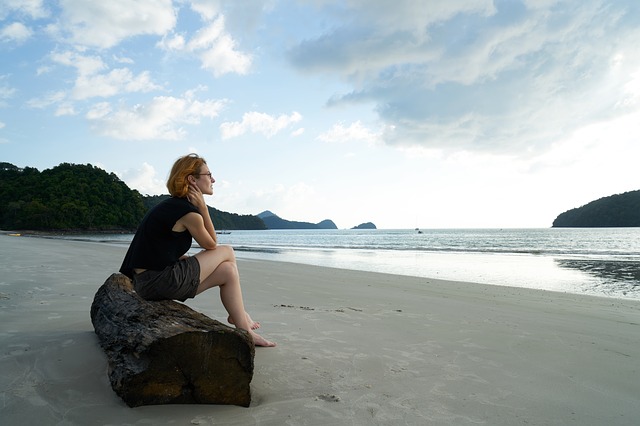 I tried to shake it off, to acknowledge that Satan was trying to work against me. I recognized it for what it was, a subtle attack from my greatest enemy. I called it what it was, a lie, and I tried to go on with my life.
But as is often the case with Satan, he was relentless. He didn't give up.
Yesterday, I woke up feeling weary. You know how that sometimes happens? You just wake up with a feeling of heaviness, and you don't necessarily know why?
My husband was out of town, so loneliness was creeping in, I hadn't slept well the night before, and because of a nasty case of poison ivy, I'd been taking lots of medicine. That combination opened up an area of vulnerability, and my enemy pounced. Like a roaring lion, he sought someone to devour.
And for two hours, I was it.
I work from home, so after spinning my wheels writing words that went nowhere and struggling to keep my eyes open, I decided to take a break. I lay my head back and tried to sleep for a few minutes, thinking physical rest would help my weary spirit. I hoped a short nap would rejuvenate me.
Instead, I entered a spiritual battle. And I don't say that lightly.
In the quiet of my house and the battlefield of my mind, I encountered one of the toughest fights against my enemy I've had in recent days. Over and over, he brought to mind my failures. My weaknesses. My shortcomings and insecurities. He mocked me with the success of others and whispered that I would always fail. He reminded me of my unfulfilled dreams, and he showed me others who are living them instead. He let me know that I am unwanted and ignored, undeserving and untalented. He showed me how I am always the last choice, forever the one forgotten. He brought back conversations that hurt, rejections that ruined. Past hurts and present fears. Real hopes and imagined slights. Lies and broken promises and the pain of being overlooked.
For two hours, I endured what I can only describe as an onslaught. I wept and raged, prayed and pleaded. I felt as if I were being pulled into a black hole.
And I think this very type of experience is what Christians rarely want to discuss. We want to put on our religious facades and pretend we're always on the mountaintop. We want to share our beautiful blessings, and we want to smile for the viewing public. We somehow think following Christ should exempt us from these struggles, and we convince ourselves to keep them very quiet. We don't want to admit that our lives are just hard sometimes, and we want everyone to think we're doing just fine.
But sometimes we're not. Sometimes we're walking through the valley of the shadow of death. Sometimes we are tempted in the wilderness. Sometimes we feel forsaken and forgotten, and sometimes we're in the midst of very real spiritual battles.
Satan attacks, and he attacks all of us. And when we fail to talk about it, he has the advantage. We give him the upper hand when we act as if he's not real.
He is real.
And we are his target.
Yesterday was a really hard day for me. The spiritual battle left me feeling drained and exhausted. It made me realize anew how powerless I am without the Holy Spirit working on my behalf. It made me internalize even more the truth that "our struggle is not against flesh and blood, but against the rulers, against the authorities, against the powers of this dark world and against the spiritual forces of evil in the heavenly realms" (Eph. 6:12).
The onslaught didn't last forever. But for the hours it did, it was brutal. As I cried, I claimed the blood of Christ over my mind, and as I prayed, I asked him to capture my thoughts and bring them into the obedience of his truth. My deliverance didn't come immediately. But it did come. Slowly, the attack lessened, and eventually, the attack began to wane.
Satan has ultimately been defeated by our Savior. But for now, he remains the ruler of this world. For eternity, Satan has been cast from the presence of God. But for now, he fights against God's people. Satan cannot have those who are saved. But for now, he will continue to try.
He tried really hard yesterday to have control of my mind. He tried really hard to keep me in a place of hopelessness and defeat. He tried really hard to win a victory in my life.
But, as always, he was ultimately defeated. As always, the Word of God won out. And as always, God showed up for his child.
Praise his name.