02 Oct

Why I'm Starting a Podcast

I'm starting a podcast, and to say I'm excited would be a stupidly ridiculous understatement.

The title of my show is "In This Skin," and the premise is this: there are far too many of us who are living timidly and in denial of who we really are and how we were really made. We are self-conscious, wishing we could change and become the idealized versions of ourselves we imagine but never publicize.

We aren't comfortable in our own skins.

We aren't comfortable, so we try like snakes to shed our skins and emerge in something new. We compare ourselves to those we see and admire, and we become like David trying to wear Saul's armor. We behave like chameleons, changing our colors according to our surroundings.

It's maddening, it's frustrating, and for the most part, it's something we never even admit is happening.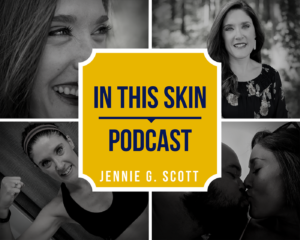 Here's what I know. I am nearly 40 years old, and for the vast majority of my years, I wanted to be someone other than myself. I wanted other people's talents, their lifestyles, their personalities, and their bodies. I measured myself against the images they projected, and I always found myself lacking.
No matter how hard I worked, no matter what other people said, and no matter how hard I tried, I couldn't get out from under the weight of failing to meet expectations I had for myself.
My skin was my nemesis.
But no more — at least not every day. I'm not going to lie to you and say the temptation to seek a different skin is gone. It still exists, but it doesn't rule my thoughts and drive my decisions. I am in a different place now with accepting who I am, and the singular goal I have for my podcast is to help you get there, too.
So that's why every week, I'm going to release a new episode where I talk about my journey and bring in guests who have struggled with this issue, too. We're going to talk openly about what the struggle looks like and where we are today. It's going to be fun, it's going to be real, and it is, I believe, going to be a game changer for people.
The first episode airs October 4th, and I would be honored for you to listen, subscribe, and leave a comment in iTunes.
If you have ideas for topics to cover or guests to invite, I'd love to hear them! Leave a comment below or email me at jenniegscott@gmail.com.