09 May

Book Suggestions for My Reader Friends!

It's time to start thinking about what to read on summer vacation! Woo hoo!

Is there anything better than reading by the ocean? I think not.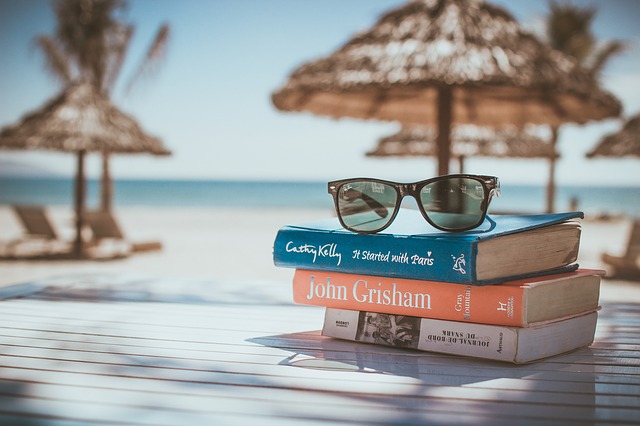 So here are four of my suggestions for summer reading 2017:
Nothing to Envy: Ordinary Lives in North Korea

by Barbara Demick. With everything in the news lately about North Korea and leader Kim Jong-Un, I've been curious about this country and its people. I admit my ignorance was strong! Although this book was published in 2009, it is still a great resource for understanding North Korea. The author interviewed and got to know people who had defected from North Korea into neighboring China or South Korea, and they gave detailed and unbelievable accounts of what life is really like for North Korean citizens. From tales of surveillance and starvation to gender expectations, this book is an eye-opener for what it's like to live in a Communist nation. I could not put it down! It's not dry or boring like a textbook. Rather, it is facts presented through stories, which is always the best way to learn. (I really want my son to read it, but there are some places with profanity, so I might wait a couple of years. I think it would be great reading for teenagers, to help them understand the huge role government plays in our lives.)

At Home in the World: Reflections on Belonging While Wandering the Globe

 by Tsh Oxenreider. I'll admit I was hesitant about reading this one. It's the true account of Tsh and her husband traveling across the planet – literally – with their three children. They visited Australia, China, New Zealand, Europe… Countries all over the world. I was hesitant to read it because I wasn't sure I could connect. It's only in recent years I've begun to love to travel myself, and I've certainly not done it with a backpack and three children. But her amazing storytelling and ability to zing you with one-liners drew me in immediately. I loved how she constantly ponders the tension between loving to travel and loving to be at home – while simultaneously exploring what home really is. Here's a hint at her style: "Our individual bodies take up minute measurements of space, which is a good thing because there are more than seven billion of us. But it's easy to feel bigger than I am, important within my own thoughts and somehow significant in the grand scheme of things. My life matters, of course, and so do the lives of my other four family members. So, too, do the seven billion other lives currently inhaling oxygen and exhaling carbon dioxide twenty thousand times a day. We all matter. And yet we are so much more microscopic than our daily tasks lead us to believe. Tiny. What a tiny place I occupy in the world."

The Road Back to You: An Enneagram Journey to Self-Discovery

by Ian Morgan Cron and Suzanne Stabile. OK – I kept hearing about this book from people in my writing group. I avoided it for a long time because it sounded weird to me. Enneagram? What's that? It sounded like it might be psycho, new-age mumbo jumbo, and I wanted no part of that. Turns out I couldn't have been more wrong. This book has opened my eyes to why I am the way I am, at least according to the personality I've always had. The basic premise is that everyone falls into one of the nine personality types. People with each type share common characteristics, often including the way they acted as children and the way they react when stressed. For example, I learned I'm a Type Five: The Investigator. Y'all, it's so doggone right on. Characteristics of my personality type? "Experience the world as intrusive, overwhelming and draining… Typically introverted and analytical… Fearful they don't have sufficient inner resources to function in the world, they detach and withdraw into the mind… Look to knowledge to provide them with what most people find through relationships, such as love, comfort and support." The great thing about this book is that it gives the positives and negatives of the personality types, and at the end of each chapter, it has a section called "Spiritual Transformation." In other words, what we need to do as Christians to thrive in our God-given personalities. It's a great resource if you want to understand yourself and others better. If you're in leadership of any kind, I highly suggest reading it and learning about the people on your team.

Never Unfriended: The Secret to Finding and Keeping Lasting Friendships

by Lisa-Jo Baker. This book affected more than I'd like to admit. Because of my personality type (see above), it is not easy for me to develop close friendships. I tend to withdraw and assume rejection, which is super healthy. Or not. Regardless, the topic of friendship and the way Lisa-Jo presents it made me cry multiple times. She shares her own struggles and gives Biblical and practical advice. In the beginning of the book, she references the story in Luke where someone asked Jesus who the neighbor is that we're to love. She writes, "But when the scholar pressed Jesus to define who exactly this neighbor is that we're commanded to love, Jesus didn't give an inch. He gave a story. And it defines neighbor not as a particular who, but instead as a what, as in what you should do. The parable of the good Samaritan isn't about identifying your neighbor; it's about being a neighbor. In essence, it's about being the kind of friend you wish you had." She carries this perspective throughout the book and challenges the reader to check herself – to really see if she's being a friend instead of wishing for one. I underlined so many lines in this book, it's full of pencil lead. But it's one I'll definitely go back to again and again. So, so good.
So there are four books I think you should – what should I read next? I love nonfiction and historical fiction, memoir and biography… Pretty much anything! Recommend your favorites by commenting below!