19 Sep

My First-Ever Book Release!

A few days ago, I wrote a post called "Do It Scared." I encouraged you to "Do it scared. Do it trembling. Do it wondering if you'll fail and if others will think you're crazy."

Today, that's me.

I have written an e-book, and today I'm releasing it into the big, scary world. I'm scared. I'm trembling. I'm wondering if I'll fail and if others will think I'm crazy.

But I'm doing it anyway!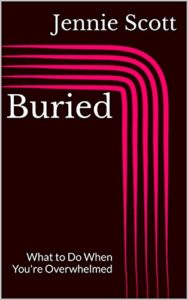 The book is called Buried: What to Do When You're Overwhelmed, and I've written it for those of you who struggle to manage all that's on your plate. I did a poll on Facebook a few weeks ago, and the number one struggle people identified themselves as having is managing responsibilities. I heard from so many women who said there's too much to do and too little time. Too many tasks and not enough self. Too many expectations and not enough reality.
They said something has to give.
I immediately knew this topic, chosen by hundreds of women, was something I had to address. I sat down with my computer and my prayers, and the result of those hours is this book I'm offering. It walks you through five simple and practical steps to reclaim your life and create breathing room for your soul. It forces you to make hard decisions about what's important and to analyze the purpose of your days.
We have more choice about our lives than we're often willing to admit, and this books reminds you that God equips you for what He has called you to do, but He will not bless what you choose on your own. It's time for us to evaluate our lives and choose the best way.
I am offering this book to you at just $2.99, and I truly believe that if you will follow the action steps and pray through each one, you will be able to look at your life from a new perspective and make changes that revolutionize your life and family. My prayer is that as a result of reading this book, you will find peace, encouragement, and will be able to manage the tasks set before you.
To purchase Buried: What to Do When You're Overwhelmed, simply click here. And if you are able, please leave a review on Amazon and share with your friends. We all need some wisdom on how to manage our crazy lives!